Madrid moves the tourist rentals goal posts again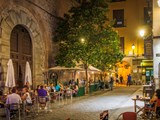 It seems hardly a week goes by without more rules to restrict short-term tourist rentals in Spanish cities.
Clearly there are economic benefits from this sector of the tourist industry but residents have had enough.
It seems hardly a week goes by without more rules to restrict short-term tourist rentals in Spanish cities. It's a real conundrum. How to balance the ever-increasing demand for short city breaks in the historic centres of Spain's most visited cities with the needs of residents who live and work in the same areas. Clearly there are economic benefits from this sector of the tourist industry but residents have had enough.
Most Spanish cities that tourists visit in large numbers now have a mandatory register for properties rented to tourists. Owners must get a licence and non-compliance means fines and a ban. The list includes Barcelona, Madrid, Bilbao, Valencia & Alicante and Seville, Granada and Málaga. In addition, each city is bringing in further legislation to address its own issues. Consequently, it's important for property owners to keep up to date as the goal posts keep moving. Madrid is the latest region to bring in a new ruling regarding tourist rentals and it's a tough one.
The Current Rule for Tourist Rentals in Madrid
In Madrid owners who rent a property for more than 90 days per year are classified as a tourist business. They must register and get a licence. However, since January 2018 there has been a moratorium on the issue of new licences for tourist resntals.  Inspectors reviewed 11,936 properties in 502 buildings across the city centre. Of theses, 14.8% were being used as holiday rentals. As a result of the inspections 500 apartments were banned for not having a licence. Now the Madrid Town Hall has approved a potential game-changer which could lead to the closure of 95% of this type of property letting.
The Tough New Law
Under the new rule, a licence in three central areas will only be granted if the building has a separate entrance and elevator for tourist use.  The three restricted zones are shown in the image below, click to enlarge it: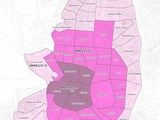 This is a reaction to one of the biggest complaints that residents have about tourist rentals in their buildings. Nobody likes the noise and disruption in elevators and communal areas with tourists coming and going at all times of the day and night. In 502 buildings inspected during the moratorium 27 had no residents left at all. 100% of the apartments were now tourist rentals. Which is perhaps better than being in a small minority. Many buildings had just one or two residents left, often disturbed by noise from visitors who have come to party. Under the separate entrance and elevator rule only 524 properties of the 9,944 that currently appear on the registry would be able to operate.
The Madrid councillor for sustainable urban development, José Manuel Calvo, was quoted as saying that 'mass tourism does not bring added value to cities, rather it degrades them' . Another councillor agreed that there was an urgent need for regulation to prevent the city centre from becoming a 'tourist theme park'. Some would say parts of many Spanish cities already have.
More Tourist Rentals Control Likely
Apart from the total ban on new tourist rentals already imposed in Barcelona's Gothic quarter this Madrid ruling is the harshest. I'm sure other cities will be watching to see how it develops. And I also expect developers to start incorporating separate entrances and elevators to refurbishments and new building projects in the affected zones. These features will bring added value to properties in the future. However, one thing is certain. We can expect more legislation of this type in other Spanish cities in the future as they are all keen to stop the tourist rental property takeover in the historic centres. No one is saying no to all holiday rentals but everyone is saying there must be more control and there is wide agreement that the current model is unsustainable. It's no surprise that Airbnb doesn't agree!
So that's Madrid covered. Still a great place to buy for yourself but only if rental income isn't an essential part of your purchase strategy. If these latest proposals aren't effective you can be sure they will get even tougher. Getting the best independent advice has never been more important.  I focus on the Mediterranean hot-spots for tourist rentals in this Blog on Barcelona, Valencia and Málaga.
I'm quoted in this article looking at how the tourist rental issue is impacting Spanish cities.  Please check our News Hub for easy access to Market Reports, Blogs and Podcasts covering a wide range of topics for property buyers in Spain.
© 2022 The Property Finders, International Property Search & Acquisition Services. All intellectual property in the design, images and text of this website are and will remain the property of The Property Finders. Any infringement of our rights will be pursued vigorously.
GDPR 2018 - We guarantee the personal data entered in the contact form will only be used for the purpose of replying to your enquiry and will not be shared with any other company, service or provider