Will the Obama visit help Marbella's image?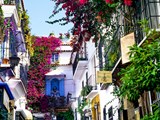 A couple of years ago I worked for clients who for health reasons needed to buy a property in a 'warm winter' destination. 
So Michelle Obama's choice makes sense to me; the weather is guaranteed to be splendid, with none of the violent electrical storms that can ruin the weather for days further north in the Mediterranean.
The lady of the house was a New Zealander so they had always gone there for a bit of warmth in the northern winter but they were finding the long flight and 11 hour time change less appealing with every passing year. So this new property had to be in the northern hemisphere with a flight time of a couple of hours from the UK., in other words, mainland Europe. A bit of research told them that there was really only one destination that would give them the winter climate they wanted and that was Mediterranean southern Spain. As they didn't know their way around they decided to use The Property Finders to guide them and after speaking to them I reckoned that the only place that would give them the mix they wanted was Marbella or very close by.
They were sceptical. Their expectations were low because like a lot of people they had been influenced by what they had read and heard about the place and as this made it sound so dire they had stayed away. So my first job was to give them an overview of the town and surrounding area and I still remember their reaction when we drove along the main avenue with the jacarandas trees in bloom, peeked at the Old Town and the beaches; they were astounded. From the sneering, negative comments they had seen online and in the press they were expecting a down-market, high-rise mess, what they saw couldn't have been more different.
I was reminded of these clients yesterday when I read the piece in The Times by Anne Ashworth, the editor of their Friday property supplement, Bricks and Mortar –'Ignore the snobs, Marbella is ideal for the Obamas'. I think she is absolutely right and I'm in no doubt that most of the people who are so sniffy and dismissive of Marbella have never actually been there.
Marbella the town isn't large. It is a charming Spanish town with lovely beaches, an historic Old Town dating back to Roman and Moorish times and a delightful Alameda where, as in all Spanish towns and villages, the locals still go for a stroll and a chat in their finery of an evening, just as they have done for generations. In town last week for a signing at the notary I was struck, as ever, by how smartly people were dressed. Business people in business gear in spite of the 35 degree heat and not a bikini top or bare chest in sight, other than at the beach, while in many parts of the Costa del Sol this revolting and inappropriate dress code is de rigueur. Do these people not pack street clothes?
A big part of Marbella's image problem is precisely because it is on the Costa del Sol, three small words that seem to be shorthand for grottiness and down-market tourism and in parts of the coasts that's a fair description but Marbella is in a different class. Another part of the problem is that everyone wants that class to rub off on them – I've seen developers try to market their product as Marbella when it is fully 40kms away. In reality, the Marbella effect covers a very limited area and outside of this, while you may be close, you are somewhere else. Marbella's reputation as an upmarket destination dates from the founding of The Marbella Club in the 1960s, unashamedly exclusive and my hope is that with the collapse of the mass market property market it will return to exactly that, something of a jewel that still sparkles more brightly than the surrounding mish-mash.
So Michelle Obama's choice makes sense to me; the weather is guaranteed to be splendid, with none of the violent electrical storms that can ruin the weather for days further north in the Mediterranean. Marbella and Puerto Banús are full of chic shops and expensive dining but if you know where to go it is still possible to lean up against a counter with your foot resting on a rail and eat tapas with the locals at €1.50 a pop. As for the beaches if when you think of the Costa del Sol you only imagine rows of sun loungers with a body on each one then you don't know Marbella. Yes, there are the smart beach clubs for all day partying but there are also quiet beaches of sand dunes and a short walk to the nearest chiringuito, Andalucía's fish restaurants on the sand, for a lunch of the freshest fish imaginable.
The Obama visit has really lifted the mood and 'Thank you for choosing Marbella' signs have popped up all over. Hard to put a price on the PR value. Just a shame she is not staying longer to find out just how much there is to do. 
And did my clients overcome their scepticism about Marbella and buy? Of course they did, an apartment in a gated community about three minutes from Puerto Banús and 100 metres to the beach.
© 2022 The Property Finders, International Property Search & Acquisition Services. All intellectual property in the design, images and text of this website are and will remain the property of The Property Finders. Any infringement of our rights will be pursued vigorously.
GDPR 2018 - We guarantee the personal data entered in the contact form will only be used for the purpose of replying to your enquiry and will not be shared with any other company, service or provider