High Rental Yields in Spain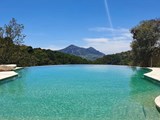 Spain's tourism figures are nothing short of astonishing.
At the peak before the 2008 global recession the all-time record was 59 million overseas visitors.
Spain's tourism figures are nothing short of astonishing.  At the peak before the 2008 global recession the all-time record was 59 million overseas visitors.  At that time Spain was the third most visited country in the world, behind France and the United States.  However, since the market lows of 2012/13 tourism growth is beyond all predictions.  Now Spain has overtaken the U.S. to become the second most visited country with 82+ million international visitors anually.  High rental yields are one result of this growth. And the month-on-month growth continues in 2019.
Why is this good news for owners who rent out their properties?  Government tourism figures give the breakdown of where all these millions of visitors stay: 63.5% in hotels, 36.5% somewhere else.  Clearly some of the 'somewhere else' group will own their own property or stay with family or friends.  However, that still leaves a serious number looking for non-hotel accommodation, perhaps as many as 20 million+.  Hence the high rental yields currently achievable in Spain but it is all about the right kind of property in the right location.
No vacancies mean high rental yields
Across the board, owners of property in prime locations all along Spain's Mediterranean coastline can put up the 'No vacancy' signs in high season.  With all high season weeks taken they can expect a gross yield of something in the region of 5%±, roughly the same rate as a good city centre apartment will bring in or a long term year-round rental.  The key to achieving an even higher yield is to focus on a mix of short term holiday lets and some longer lets at other times of the year in the few areas with a genuine 12-month season.
In the case of Spain that means heading for the mildest climate and golf.  And I don't mean areas with one or two golf courses within 30 minutes, I mean the area that attracts the serious golfer between October and June, that is the Costa del Sol, which also markets itself as the Costa del Golf.  Specifically, the prime stretch between Marbella and San Pedro.  An 8% gross yield is achievable in this area, with about 4% coming in the high season weeks and the other 4% spread through the  mid and low season weeks.  Outside this zone, 4%± is realistic in summer but mid and low season rentals probably won't put on more than another 2%, if that.
A 12-month season is key
Another strategy is to target longer term rentals in mid and low season months; many northern Europeans and Americans rent a property for 3 – 6 months in winter.  Another popular option, particularly among Scandinavians tenants, is to rent year-round but agree to vacate in the high season.  In this way the tenant doesn't have to pay for months they don't use and the owner gets the benefit of high season income.  The only downside is that some storage space must be available to secure the tenants' personal belongings.  This type of tenant is ideal; well-off, retired, reliable.
With demand outstripping the supply of quality rental properties in prime locations yields should hold up even though property prices are rising as rental prices are also definitely on the increase.  A good property should see regular repeat business.  Here are two examples of properties we found for clients of The Property Finders that are producing rental income above expectations:  a country property near Gaucīn and a luxurious villa in the hills behind San Pedro.   It goes without saying that free wifi, flat screen t.v. & satellite, high quality interiors and equipment are considered standard requirements by tenants.
When I am working for a client whose brief requires high rental yields I target certain areas and ignore others, I look for a type of property and reject others.  Get the location wrong, even by just a few kms and income may be halved.  As well as as pinpointing the right location in a particular area you need to be in the right region because some have legislated against short term holiday lettings, pressured by the powerful hotel lobby and disgruntled locals.  Get it right and high rental yields are the norm.
© 2022 The Property Finders, International Property Search & Acquisition Services. All intellectual property in the design, images and text of this website are and will remain the property of The Property Finders. Any infringement of our rights will be pursued vigorously.
GDPR 2018 - We guarantee the personal data entered in the contact form will only be used for the purpose of replying to your enquiry and will not be shared with any other company, service or provider