The 7-year Property Market Cycle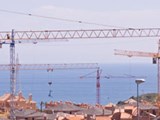 There's a saying in real estate circles that there's a property market cycle of 7 years between the peak and the trough while our memory span is shorter – only 5 years. 
I think this saying about a property market cycle is being proved correct once again.
There's a saying in real estate circles that there's a property market cycle of 7 years between the peak and the trough while our memory span is shorter – only 5 years.  Looking at how things are panning out in the prime area of Marbella and San Pedro municipality, one of the coastal areas in Spain where the market is growing strongly, I think this saying about a  property market cycle is being proved correct once again.
Going down in the cycle
Five years on from the global financial crisis in 2008 and bang on target, buyers started to reappear in good numbers from 2013.  In fact, Marbella was the first municipality on Spain's Mediterranean coast to register price rises.  Inevitably, building cranes followed and by 2015/16 they were popping up everywhere.  And while that's good news there are also plenty of signs that indeed, memories have a shorter life span and  there are ominous signs that the pain of the property market collapse have already been forgotten.  The property market cycle is turning again.
Firstly, prior to the crash one of features of the previous property market cycle in Spain was the over-supply of real estate agents.  Above all, this manifeted itself  in the Mediterranean coastal areas where the majority of overseas buyers head.  Throughout this sector the financial crash and subsequent implosion of the property market in Spain saw thousands of real estate offices close and none of them were missed.
In the most oversupplied areas more than 75% closed and in one town a bit inland from the coast only two survived out of thirty.   That would be enough for a small city in most countries so why a town of 15,000 inhabitants needed thirty estate agents is a tough question to answer.  Across the board, many of the agents that survived post-2008 needed to downsize, cutting costs and staff and mothballing office space.  Without exception, the survivors are the most experienced, most knowledgeable and most professional and the market is much healthier as a result.
On the way up in the cycle
But I can see signs of the over-supply in this property market cycle starting once again.  I was in front of a row of office premises recently and was horrified to see that three of the five were newly-established estate agents.  Three more were in place in the adjacent building and with lots of vacant units in the same area I don't doubt there are more on the way.  Where on earth do they think the business is going to come from?   I foresee lots of not very knowledgable start-up agents advising not very knowledgeable property buyers with the same disastrous consequences we saw during the bubble years that ended the previous property market cycle in 2008.
It is impossible for buyers entering the market to know whether an agent is long-established or one of the newbies.  They all have smart websites and with the proliferation of multi-listing sites such as Resales Online many don't even bother with an office.  They much prefer the low-overhead option of a laptop and mobile phone.  If you find yourself on the website of one of these you will be dealing with someone who will have no direct listings and will have seen few, or even none, of the properties on show.  Others are opening mega-offices with big numbers of back-office support staff, the very model that didn't work last time around.  Even worse, some involved in failed businesses in the crash are re-entering the market in new premises under new names.   But there's no way a buyer entering the market now could know any of this.
The statistics for 2018 showed a slowdown in the overseas buyer numbers in the second half of the year.  I predict the trend is continuing due to prices rising too much and too fast.  As a result, I also predict the first closures of agents during 2019/2020.
Commissions as high as ever
The second trend repeating itself is commission levels.  The overseas market in Spain has always loaded prices with more than is normal in the domestic sector; in the resale market 5 – 10% was common with developers routinely paying 10% as a minimum.  It seems nothing has changed and I am regularly seeing a share of 5% being offered by the listing agent to an agent introducing a buyer, so the total commission may be as high as 10%.
Having been in the Spanish property business for a very long time I often say that nothing surprises me any more but even I can't believe that up 20% commission is available on a house with a €3 million price tag.  That's a potential €600,000 commission, so who wouldn't want to be a real estate agent.  Do one deal and take the rest of the year off.   Nothing wrong with that!  My question to the seller would be: why not just reduce the asking price to the right level?  I've written more about sky-high commissions levels in Spain in this blog.
So if you must use an agent for a purchase in Spain ask them just three simple questions to have the best chance of avoiding the worst pitfalls: 1) how long have you been open for business? 2) how much commission do you charge the seller? and 3) have you actually seen the property you are taking me to see?  If they are reluctant to answer, choose someone else or call The Property Finders.  Click to check out the Locations we cover.
© 2022 The Property Finders, International Property Search & Acquisition Services. All intellectual property in the design, images and text of this website are and will remain the property of The Property Finders. Any infringement of our rights will be pursued vigorously.
GDPR 2018 - We guarantee the personal data entered in the contact form will only be used for the purpose of replying to your enquiry and will not be shared with any other company, service or provider