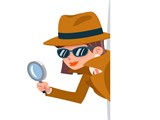 I think one of the most useful parts of a buying agent's service is not wasting our client's time.  That's even more important when the property is in one country and the buyer in another.
The agent's desciption even said: 'This is in our opinion the perfect Country House!'
That's even more important when the property is in one country and the buyer in another. We become the buyers detective, doing the research on the ground, walking the streets, checking the neighbourhood.  That's tough to do if you live in another country, but it has to be done.  That where we come in, we are the detectives.
Every client has a list of requirements that makes each search unique.  In fact, in most cases only a small number of properties will have the right mix of style, accommodation, location and price to get it short listed for viewing.  It's a big waste of a buyer's time if they view properties that don't match their criteria.  It's even worse if they are on a quick viewing trip and most are.  However, as the buyer's personal detective we do the sifting and sorting in advance, weeding out the no-hopers.  Obviously, it takes time but it's our time, you are not wasting yours.
On one search for a country house I really thought I had struck gold.  Great looking house in a great location, it ticked all the boxes.  The agent's desciption even said: 'This is in our opinion the perfect Country House!'
Yes, but what about the slaughterhouse?
I saw internal images and, indeed, it looked wonderful.  Even better, it had been renovated by an architect for his own use, always an indication of quality.  I couldn't wait to see it. Then I looked at the map and asked the selling agent how far the house was from the local matadero, which is Spanish for slaughterhouse!  However, he didn't know what I was talking about which I put down to the fact that his office wasn't based in the nearby town but down on the coast. Nevertheless, he would have driven past this hideous building on the way to the house! How could he not know but he was adamant there was no matadero close by. As a result, although I know this area very well, I started to doubt myself so I went to see it anyway.
And there it was, one abbattoir no more than 500 metres away. When the wind blows from that direction it is possible to hear the animals being unloaded 24/7.  Never mind the smells and flies. In addition it was visible from the first floor.  So there you have it, a wonderful house in a disastrous position.  A total waste of time and not worth short listing for my clients to view.  But what a time saving for my clients.  Of course, I reported back to them with details and images and they agreed it did indeed tick all the criteria.  Shame about the slaughterhouse!
It will sell eventually.  I suspect the buyer won't find out until it is too late, highly likely if the selling agent doesn't even know it is there!  Or perhaps it will be reduced to such a low price someone will decide it's worth a go.
Ignorance is always bad
Maybe the current owners bought in ignorance. Perhaps they were sold it by a local agent who knew the locality well.  In that case, they would have taken the road from the centre of town with a turning to the house before you see the matadero.  That's what selling agents do.  In fact, it's what they have to do, to have any chance of selling a problem property. Do whatever it takes to disguise the problem and hope the buyer doesn't find out.  And that may explain why the sellers didn't choose a local agent but one from the coast without in-depth local knowledge.
I can easily imagine a scenario in which a prospective buyer flies out just to view this property, loves it, agrees a price but then finds about the slaughterhouse so he doesn't go ahead. In all probability had he known about the slaughterhouse in advance he wouldn't have taken the trip so all he has done is waste time and money. So by using a buying agent who unearths all the bad stuff in advance the buyer avoids pointless and time consuming viewing trips.
As we left the property the sales person who accompanied me finally got it.  Until then she hadn't really understood my role. She decided I wasn't really an agent at all but a detective finding out useful things for the buyer so they don't make mistakes!
I think I may have given this particular agency a bit of a dilemma. I know they had shown the property prior to my visit but what will they do now they also know about the matadero? Disclose or keep quiet? Take a look at some of our Case Studies to learn more about how a property detective works.
© 2022 The Property Finders, International Property Search & Acquisition Services. All intellectual property in the design, images and text of this website are and will remain the property of The Property Finders. Any infringement of our rights will be pursued vigorously.
GDPR 2018 - We guarantee the personal data entered in the contact form will only be used for the purpose of replying to your enquiry and will not be shared with any other company, service or provider