Tourist Rentals in Barcelona Valencia Málaga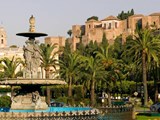 Buyers may need to rethink their plans if income from tourist rentals is part of the strategy.
Already the city with most controls, Barcelona has plans to go further.
Following my review of the changes to Madrid's tourist rental regulations this post covers tourist rentals in the cities of Barcelona, Valencia and Málaga. All of them are getting tougher, even to the extent of outright bans in some locations. Therefore, buyers may need to rethink their plans if income from tourist rentals is part of the strategy.
There are reasons why Spain's A-list city destinations are trying to limit tourist rentals in the city centres.  These are the main ones:
Local residents are being squeezed out of city centres as long term rental stock reduces.
Affordability – rental and sale prices shooting up as tourist rental investors move in.
Noise and tenant churn.
Local politicians getting a clear message to sort it out.
The growth in tourist rentals in the cities
In one sense these issues signal the strength of Spain's tourism sector. In the decade since the 2008 recession Spain's overseas tourists rose from 59m in 2007 to more than 82m in 2018.  Consequently, Spain is now the second most visited country in the world, just behind France. The rise in visitor numbers to Spanish cities is also a sign of a maturing tourism sector.  For far too long Spain's tourism sector concentrated on the typical family holiday of sun n' sand.  However, they now realise there is a big market for cultural tourism as well and these visitors head for the cities. One result is that yields from tourist rentals in the cities are very attractive for property owners.
The city centre problems
But this growth brings problem because Spain's cities are relatively small in area. As a result, the historic centres are saturated with tourists and local residents feel crowded out. Another issue is that city tourism is a year-round market, that's why the rental yields are so good. There is no low season so there is no respite. Disruption for a couple of months in summer is bearable if everyone goes home in September.  However, Spanish cities are just as packed in winter as in summer. So the conundrum facing the most visited cities is how to get the balance right. How the economic benefits of more visitors, who typically spend more per night on average than the summer beach holiday visitor, can be balanced against what residents will tolerate in terms of increased noise and disruption to their daily lives.
Different cities, different rules
Different places have different requirements, some locations are overwhelmed while others don't have a problem.  As a result, in 2013 the central government devolved legislative responsibility to the autonomous regions. In this way, they could come up with rules that best suited them. But even prior to 2013 several regions already had some controls in place. Of the main tourism regions only Andalucía had no controls at all on short term tourist rentals. However,  Cataluña, Mallorca, Valencia and the Canary Islands all did. Unfortunately, enforcement of those laws was non-existent or patchy. Now they are playing catch-up.
There's no doubt that the emergence of portals such as Airbnb and Homeaway led to the rapid expansion of tourist rentals.  On the other hand, increased visibility makes it easier for the authorities to see who is doing what.  Not only are there fines for non-compliant individuals, up to €300,000 in some regions.  In addition, big fines have been imposed on both Airbnb and Homeaway for allowing unlicensed properties to be listed.  In theory it should now be impossible for owners to list an unlicensed property. And tax avoidance is much easier to spot as once a property has its rental licence that information is shared with Hacienda.
Barcelona
Already the city with most controls, Barcelona has plans to go further. Earlier fines against Airbnb and Homeaway seem to have had some effect with an estimated 2,500 unlicensed properties taken down. Nevertheless, an estimated 40% of listed properties are thought to be illegal.
Barcelona town hall created four zones moving outwards from city centre. There is now a permanent freeze in Zone 1, covering Cuitat Vella, parts of Eixample and Poblenou, Vila Olímpica, Pole Sec, Hostalfrancs and Sant Antoni. No new licenses will be issued in this zone even when a licence expires. In Zone 2 a new license will only be granted if one has expired, so numbers will stay the same. The only areas where limited growth will be allowed are Zones 3 and 4.  However, these are further away from the city centre, less likely to attract to typical tourists who want to be on top of the action.
Several new ideas are up for future discussion. One is to fine owners who evict long term tenants solely to switch to the short term market. Another is to force developers of new projects to allocate 30% of the project to affordable rentals and finally, fines of up to €60,000 on owners who rent out unlicensed rooms in their principal residence.
Valencia
Compared with Barcelona's 32+ million visitors in 2018, Valencia's total of 2m seems insignificant.  Nevertheless, driven by growing local discontent and a desire to act before things are out of control, restrictions are increasing. So, no new licences will be approved in the Ciutat Vella part of the city centre.  Meanwhile, in other areas only ground and first floor properties will be licensed. Owners will be required to obtain a report from the town hall authorising use of the property for tourist rentals. They can only apply for a licence number once they have that.
The city is also going after the online portals with fines and has raised the maximum to €600,000. Comments from Tourism and Town Hall sources imply that the situation is not yet seen as a concern apart from a few specific zones.   However, by taking action now they hope to prevent the problem escalating.
Málaga
Málaga is the new boy on the block.  It is by far the smallest market with 1.3m tourists staying in the city in 2018.  It's also the least regulated.  Currently, owners only have to apply for a licence number and meet the required standards. As yet, there are no restricted zones. This law came into effect in May 2016 and already around 4,500 properties in the city have legal status with a licence number. In additoin, the list is available online so visitors can check if the apartment they are renting is legal. The council has also set up a telephone hotline for the public to report suspected illegal properties.
However, although it is a much smaller market it is growing strongly and in 2018 had the highest growth in tourist number of any city in Spain. Already the same issues are emerging, particularly evictions and rising rents, noise and disruption. While there are no definite new proposals in the pipeline the mayor is on record as saying the tourist rental market is being watched closely and they won't hesitate to impose more controls if necessary. And owners themselves can also take action.  There are already buildings in Málaga (and other cities) in which the community of owners have voted to change the statutes and ban tourists lets completely or enfore strict limits.  This article explains more.
Conclusion
What isn't certain is how these tougher rules and better enforcement might affect the property market in city centres as far as buyers are concerned. The best case scenario is that fewer speculative investors will reduce competition and make it easier for buyers, both local and from overseas, to buy a property for personal use. Although prices are rising in all three cities there are still great opportunities in central locations and The Property Finders offer the local expertise needed to find them.
Please check our blog page for more posts about changes to Spain's rental laws for owners and lots of other topics. I'm quoted in this article which discusses the issues. Get the answers to some commonly asked questions about buying property in Spain on our FAQs page.
© 2022 The Property Finders, International Property Search & Acquisition Services. All intellectual property in the design, images and text of this website are and will remain the property of The Property Finders. Any infringement of our rights will be pursued vigorously.
GDPR 2018 - We guarantee the personal data entered in the contact form will only be used for the purpose of replying to your enquiry and will not be shared with any other company, service or provider