Your personal property detective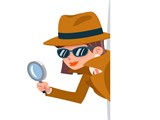 How can property buyers be sure that they uncover all the issues affecting a property before they buy?
There were no further problems until another very wet winter in 2010...
How can property buyers be sure that they uncover all the issues affecting a property before they buy?  When you are purchasing in another country there may not be an opportunity to see the property more than once, twice if you're lucky.  However, in an ideal world, there should be at least two viewings and preferably more.   Nevertheless, it's a fact that most overseas purchasers in Spain only see properties in daylight and in good weather.  What about at night, in bad weather? If you view in the morning can you be sure where the sun is in the afternoon?  Above all, was there a chance to dig deep into the history of an area to uncover what might have occurred in the past?  Your personal property detective can do that for you.  
Some countries, such as the UK, New Zealand and some US states, do have disclosure requirements.  As a result, there have been cases of legal action against previous owners for failure to disclose a known issue.  However, there are no such disclosure laws in Spain.  And anyway, as the case I give below shows, even the existing owner may have bought in ignorance.  As a result, they don't know there is anything to disclose.
The property detective at work
I located a property for clients which was everything they wanted.  In a prime location, close to the beach and a marina, lovely sea views.  And fully renovated to a very high standard.  Consequently, it ticked all the boxes on their list of criteria.  The property itself looked fine, both inside and out.  Although there were a few hairline cracks that's normal after major building work.  However, in the communal areas within the urbanization it was a different matter.  Cracks in the road outside the house, steps to a communal swimming pool collapsing, and crumbling retaining walls  were all indicators that the land on which the development was built had moved.  With my property detective hat on enquiries revealed that 20 years previously exceptionally heavy rains during construction of the marina caused a landslide.
Following extensive containment measures  there were no further problems until another very wet winter in 2010.  With clear evidence that the land was on the move again the regional government commissioned an emergency survey which reported poor maintenance in general and  even failure of some of the original repairs. The report criticised developers for poor soil compaction in communal areas, such as road surfaces, pavements, steps and retaining walls.  Unfortunately, a lot of new properties had been built in the affected area in the intervening years.  Even more unfortunately, the house I viewed for my clients was one of those built in the affected zone between the two rainy winters.  It was the cracks in the street outside that first caught my attention.
Making informed decisions
The house was only a few metres inside the affected area.  Furthermore, a structural survey gave the house a clean bill of health.  Neverthess, my clients decided against it and I found them another house close by.  However, the current owners were astonished to learn of the earlier landslide.  They had bought from the original developer, the very person who knew why the problems had occurred.  Even though the issue was on-going at the time of their purchase they remained oblivious.  They bought via an estate agent in business in the area for years so they knew the history.  Unfortunately, they had no one to defend their interests.
Since then I have been working for another client with similar critieria so this same area was on the list.  I was offered a top quality house which ticked all the boxes.  I went to see it to check whether it was in or out of the affected area.  It was inside, but only just, and right on the edge of there being no problem, a matter of a few metres and it was on much flatter terrain.  Internally and externally everything looks fine.  Now, if I were the estate agent working for the seller I wouldn't dream of mentioning the history of the urbanization.  Then there would be a good chance of a sale without the buyer finding out its recent history.  I know for a fact that the agent handling the sale of this house will not mention it.
Information is everything
However, when a buyer has a property detective  on their side it is a very different story.  I have reported back to the client that the house matched their requirements very well.   In addition, my report also contained full disclosure of what I know about the landslide.  This included a map to show the affected developments and details of the remedial work.  In spite of that, my client is viewing the house in a couple of weeks' time.  He may buy it, he may not.  However, if he does at least he will be making an informed decision with full disclosure of the facts.  Using a buying agent, a property detective who works for you, is protection against unknowns that may come back to bite in the future.  Take a look at some Case Studies to see how The Property Finders go to work on your behalf.
© 2022 The Property Finders, International Property Search & Acquisition Services. All intellectual property in the design, images and text of this website are and will remain the property of The Property Finders. Any infringement of our rights will be pursued vigorously.
GDPR 2018 - We guarantee the personal data entered in the contact form will only be used for the purpose of replying to your enquiry and will not be shared with any other company, service or provider